2019
2015
2013
2012
2011
10 Miles Walk
The Hope Alive Trust invites you to a
10 Mile Charity Walk and Fund Raising/Awareness Event

This year we have decided to up our game from last year's 5 miles to 10 miles. Come join in the fun! Please see details below.

The gofundme/justgiving link will be shared soon.

Date: Saturday, 25th May 2019

Venue: Leybourne Lakes (please see link below)

Leybourne Lakes

Time: 8.30am prompt

Meeting point: Leybourne Lakes Car Park
---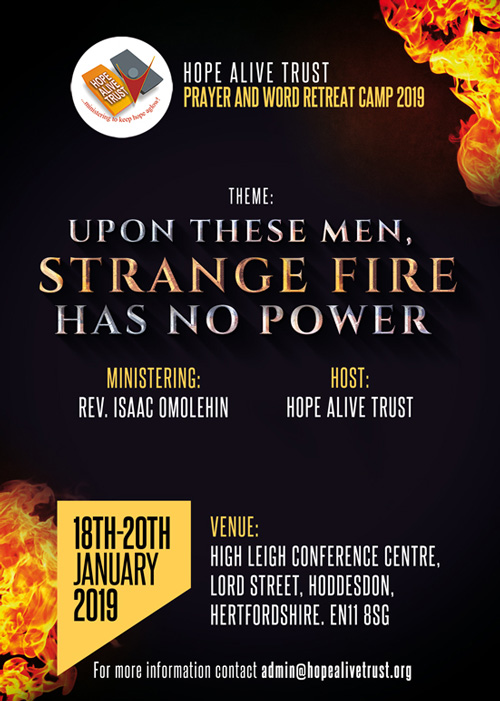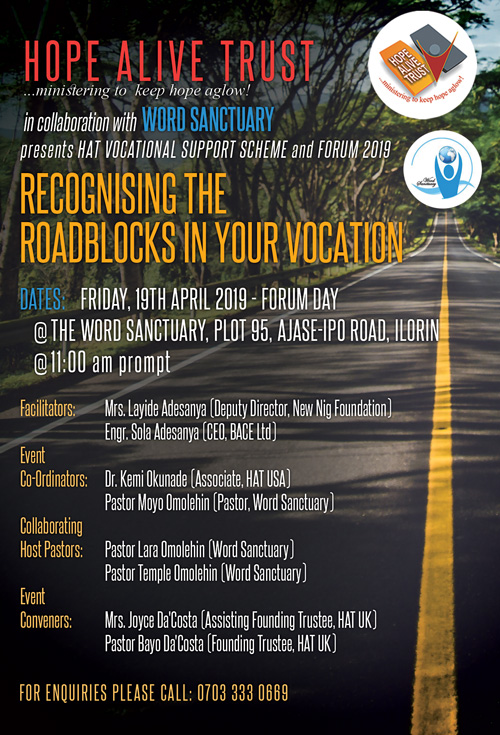 HOPE ALIVE TRUST MISSION 2015 PRAISE REPORT
Events
Testimonials
The HAT UK team departed the UK to arrive in Nigeria amidst 'uncertainty' of the Nigerian political climate because of the 2015 presidential election which was earlier postponed and therefore incidentally coincided with the HAT mission trip. As God would have it, the peaceful nature of the election was unprecedented and the HAT mission went on as planned. Hallelujah! God answers prayers!!
As usual, the HAT team was welcomed warmly with open arms by Revd Isaac Omolehin, Dr (Mrs) Christie Omolehin and the Word Commission members at Ilorin, Kwara State-Nigeria, for which we are very grateful.
THE HAT HOSPITAL PROJECT
The HAT hospital building's foundation was laid in April 2012, at Idofian, Kwara State, Nigeria (a predominantly muslim community). From then onwards building work has continued on site till date, albeit haltingly sometimes due to availability of funds.

By April 2015 (this year) however, the front half of the hospital was completed and useable, stocked with initial medical equipment. As a result, to the glory of our Lord and Saviour the HAT medical outreach this year was held at this same venue using the front half. The hospital is to remain opened post-HAT mission, with volunteer staffing. (See pictures).

Revd and Mrs Omolehin, some members of Word Commission and Hope Alive Trust team members went to pay a visit to the Oba of Idofian, intimating him with the hospital project which the people of his town could benefit from. He and the elders of the town were immensely grateful.

If you would like to donate to Hope Alive Trust in order to see the second half of the hospital completed, please click on "Donate" on the home page of this website to do so, and we know the Lord will definitely reward you.
HAT 2015 MEDICAL OUTREACH
In total, over the three days outreach (2nd to 4th of April 2015), two hundred and forty nine outpatients were attended to and given medication free of charge. Also, six minor surgeries were performed free of charge. (See pictures)
HAT CAREER SEMINAR
A need was identified amongst the youth for quality career education, hence the HAT team worked with Word Sanctuary (the youth church of Word Commission) to put together a career seminar aimed at addressing this need. It was held over two days, 2nd and 3rd of April 2015 with various facilitators invited to train the youth in this area.

To the glory of God, it was very well attended with approx. 460 people on the first day (aimed at teenagers) and approx. 350 people on the second day (aimed at the older youth). Questions and enquiries for more information as a result of this seminar, has been quite encouraging. (See pictures)
HAT 'THANK YOU' GET-TOGETHER
Hope Alive Trust said thank you to all helpers and volunteers at a get-together organised for this purpose. Certificates of appreciation were also handed out to our commendable volunteers.
The HAT TEAM AT SHILOH
As has been the case for the past 19 years, an annual 120 days evening crusade programme, named SHILOH, at Word Commission Ilorin was on-going led by the General Superintendent of Word Commission, Revd Isaac Omolehin, which usually spans from January to April annually. The HAT team was tremendously blessed by various ministrations. We always look forward to this event every year. Praise be to God!

Indeed, this has been a mission trip with a difference, God surrounding us constantly with divine miracles and causing His work to move forward. 'Thank you' doesn't seem to be enough to say to all HAT members, associates and pals, whom God used to make this trip a possibility and a great success. We are indeed humbled by your sacrifice and appreciate you hugely. The Lord bless and keep you and yours in Jesus' name. Amen.